Podcast: Play in new window | Download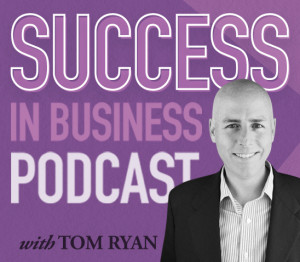 Creating a compelling story for your business isn't about casting yourself or your company as the hero. It's about placing your customers, partners and investors in that role, identifying their problems, acting as their guide, and calling them to action. It's not your story that matters, it's theirs.
Host and business coach Tom Ryan and co-host/producer Jason Pyles continue their discussion of Donald Miller's powerful, compelling ebook, How to Tell a Story. Learn why it's important to frame your stories correctly, and hear some real-world applications of these principles from Tom's work with the Kauffman Foundation Entrepreneur in Residence program.
If this sounds interesting to you, download your own copy of Donald Miller's How to Tell a Story ebook today, and be sure to keep listening to the Success in Business Podcast this week for our continuing review.
• Show opening
• When storytelling matters to your business (1:00)
• Your Brand is Not The Hero ebook (4:30)
• Seven questions to frame your story (6:00)
• Building case studies through storytelling (8:00)
• Understanding the audience's point of view (10:00)
• Surveying your customers to create and confirm narratives (14:00)
• To be continued …
• Sign off, and ways to contact the show
---
Tweet Tom at: @TomRyanAVL
Do you have a question about your business? Tom would love to help you:
Leave a voicemail: (801) 228-0663
E-mail your questions: SuccessInBusinessPodcast@gmail.com
Like this podcast on Facebook
Follow this podcast on Twitter: @TomRyanSIBP
Get every episode free: Subscribe in iTunes