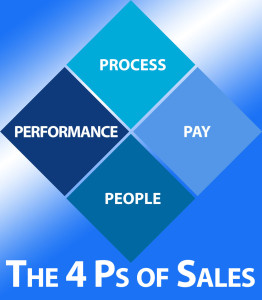 If you've done your homework as we've talked about the previous "Four Ps of Sales," you likely have all the information you need to determine the what skills you need as you grow your sales staff. You should also have a good idea what a reasonable level of compensation will be for the right salesperson. What those skills and compensation requirements will be completely depend on your startup's needs.
Let's say you've gone through each step in the "Four Ps," and as a result you've created a clear sketch of your company's sales needs. You've already done the heavy lifting of figuring out your sales process, and you've worked out the optimizations that allow for great sales performance. You've looked at your logistical needs, such as inside versus outside sales. You've even determined how much you can afford to pay for sales.
After all that, you've determined that you both need and can afford some inside sales reps. You know those reps will be selling directly to clients over the phone, and that they will be using a variety of technology — specifically a CRM system and various computer tools — in the course of their daily work.
It's a tough thing to be an inside sales rep who can sell at a high level. It requires a more advanced sales skill set, and the ability to work with customers in a more sophisticated way. You can't see the customers you're talking to, cutting you off from valuable information like body language as you move forward with the sales process. It's a more challenging kind of job, in that respect at least, than outside sales, where you have a wider range of information coming from your prospects in face-to-face interactions.
How does all this translate into a set of required skills you can look for?
Tech-savvy
Highly organized
Strong phone presence
Maintain control of sales using only verbal cues
Knowing exactly what kind of skills the job needs makes it much easier to identify people with those skills during the hiring process. Someone who has a strong background of phone sales might take priority over an experienced salesperson who has always worked out in the field, for instance. Someone who lacks basic computer skills is going to have a harder time getting up to speed than someone who has worked with CRM-like systems before.
This brings us to the final piece, which is compensation. If you've done the work during the "Pay" section, you already have a good idea what you can afford. This is helpful, because instead of adjusting the pay to the individual, you're adjusting the individual candidates to the level of pay. It's a more thoughtful and thorough process for finding the right kinds of people, rather than finding a single highly skilled person and bending over backwards to afford them.
Compensation is a complex topic, and I'll be going into more detail about the nuances of creating a great compensation plan in a later post.