Podcast: Play in new window | Download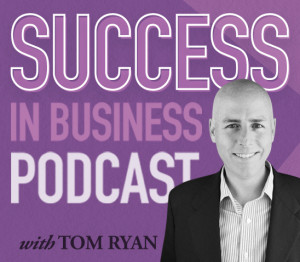 At some point during the life of your business, you will need to expand. This is just as true for small-scale lifestyle businesses as it is for a high-growth startup. To finance that growth, you have two basic financing options: equity and debt. While equity can make a lot of sense for an early stage company, it's not always the best option for a more established business. In those cases, debt might be the right tool for the job.
In today's episode of the Success In Business Podcast, host and business coach Tom Ryan begins an overview of the basics of debt-based financing. As always, Tom is joined by co-host and producer Jason Pyles.
• Show opening, and thoughts on St. Patrick's Day
• Recap on the funding series thus far (2:30)
• 6 Methods for Raising Money for Your Startup (and Their Tradeoffs)
• Introduction to debt-based financing (4:30)
• Consumer versus commercial loans (5:30)
• Assets in commercial loans (7:00)
• Crossover scenarios between consumer and commercial lending, such as second mortgages and home equity loans (8:00)
• Advantages and disadvantages of debt (8:30)
• Common types of small business loans (9:30)
Friends and family
Credit cards
Micro-loans from nonprofit lenders
SBA loans
Home equity
• Thoughts on friends and family loans (10:00)
• Terms for loans and promissory notes (13:30)
Loan amount
Start and end dates
Parties
Interest rate and calculation
Payment amount and frequency
Terms and conditions
Loan security
Governing law
Loan transfer
• Next episode: Examples of loans
• Reminder about the upcoming The Talent Jam in Asheville, NC
• Sign off, and how to contact the show
---
Tweet Tom at: @TomRyanAVL
Do you have a question about your business? Tom would love to help you:
Leave a voicemail: (801) 228-0663
E-mail your questions: SuccessInBusinessPodcast@gmail.com
Like this podcast on Facebook
Follow this podcast on Twitter: @TomRyanSIBP
Get every episode free: Subscribe in iTunes