Podcast: Play in new window | Download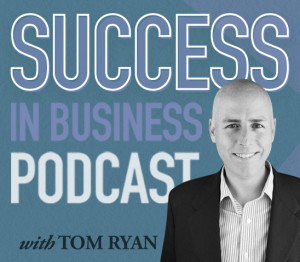 Every customer has a problem that needs solving. The better you understand that problem, the more likely it is that they will decide to spend their money on your solution. There's no better way of demonstrating how well you understand their struggles, pains and frustrations than by telling them a story about another prospect with a similar problem, and how your products or services were able to make that problem disappear.
In this episode of the Success In Business Podcast, host Tom Ryan explains how the right kind storytelling can do more than simply open doors during the sales process. It can build trust, set expectations, and even help with the tricky business of qualifying prospects. As always, Tom is joined by co-host and producer Jason Pyles.
• Show opening, and thoughts on The Quiet Man
• Recap of sales storytelling concepts (2:00)
• The Golden Opportunity of telling prospects great stories about your former customers (3:00)
• Why no sales story works unless the prospect has a problem (5:00)
• Internal, external and philosophical problems prospects face (6:30)
• Connecting to prospect problems (8:00)
• Applying client problems to your business narrative (9:30)
• Demonstrating the solution through storytelling (11:30)
• Storytelling as a tool for qualifying prospects (12:30)
• Customer results as happy endings or cautionary tales (14:00)
• Gauging reaction (15:00)
• To be continued …
• Sign off, and how to contact the show
• Bonus: Further thoughts on The Quiet Man
---
Tweet Tom at: @TomRyanAVL
Do you have a question about your business? Tom would love to help you:
Leave a voicemail: (801) 228-0663
E-mail your questions: SuccessInBusinessPodcast@gmail.com
Like this podcast on Facebook
Follow this podcast on Twitter: @TomRyanSIBP
Get every episode free: Subscribe in iTunes