Podcast: Play in new window | Download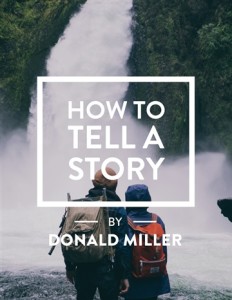 "A good story doesn't happen by accident," notes Donald Miller in his popular ebook, How to Tell A Story No matter what kind of story you're telling, structure matters. By understanding how stories work, you can capture your audience's attention in ways that the facts alone never could. For a business looking to connect with customers, or startup trying to catch the eye of investors, a great story can completely change the game.
In this episode Tom and Jason the producer officially begin their review of Donald Miller's How To Tell A Story eBook. They discuss how the human brain is drawn toward clarity, not clutter. And Tom and Jason talk about how good stories don't happen by accident. They are structured as an organization of events that are told through a set form.
Donald Miller says that story is a sense-making device that helps us to organize the events of our lives into clear, understandable cause-and-effect sequences. Tom and Jason also discuss how stories have predetermined plots, as opposed to random, unrelated events.
If this sounds interesting to you, download your own copy of Donald Miller's How to Tell a Story eBook today, and be sure to keep listening to the Success in Business Podcast this week for our continuing review. Join us!
• Show opening
• Recap of content marketing discussion
• Why "A good story doesn't happen by accident"
• Telling a clear story
• Music as an example of structure
• Tom's takeaways
The human brain is drawn towards clarity
Great stories have clear structure
Story is the organization of events, told through a structure
• To be continued …
• Sign off, and ways to contact the show
---
Tweet Tom at: @TomRyanAVL
Do you have a question about your business? Tom would love to help you:
Leave a voicemail: (801) 228-0663
E-mail your questions: SuccessInBusinessPodcast@gmail.com
Like this podcast on Facebook
Follow this podcast on Twitter: @TomRyanSIBP
Get every episode free: Subscribe in iTunes