Podcast: Play in new window | Download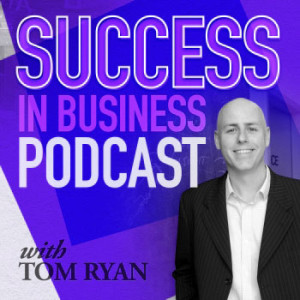 Welcome to Episode 040 of the Success in Business Podcast with your host, Tom Ryan. This episode is the third portion of a five-part series where Tom coaches Pam the author about marketing her book and her business ideas.
The broad scope of this show consists of Tom teaching Pam the author how to accomplish her mission of inspiring survivors of abuse by sharing her thoughts and experiences in small, daily doses.
But more specifically, Jason and Tom talk to Pam about the benefits of writing a daily blog to help further her cause through multiple channels. Then Tom chats with Pam about accomplishing what he calls a "big, hairy, audacious goal." Next Tom talks about how the seed of an idea begins to grow into additional aspects and extensions of your business.
Next Tom briefly touches on the instances when an entrepreneur has to have "the hard conversations." He warns Pam to be prepared for the adversity and the ups-and-downs of being an entrepreneur.
Then Tom moves into the stage of figuring out the execution for breathing life into one's business idea. He talks to Pam about ways to connect with the target audience through daily, how-to instructions that she could release to the community surrounding her business. Tom talks about how a business and its elements of content are built through the power of incrementalism.
You'll hear all of the above and more in Episode 040 of the Success in Business Podcast. Join us!
Links for Today's Episode:
Learn more about The Startup Weekend
Tweet Jason nicknames to: @TomRyanAVL
Do you have a question about your business? Tom would love to help you:
Leave a voicemail: (801) 228-0663
E-mail your questions: SuccessInBusinessPodcast@gmail.com
Like this podcast on Facebook
Follow this podcast on Twitter: @TomRyanSIBP
Get every episode free: Subscribe in iTunes
If you're a first-time listener, Tom Ryan's Success in Business Podcast is a weekday show that provides how-to advice for entrepreneurs and small business owners. Thanks for listening.