Podcast: Play in new window | Download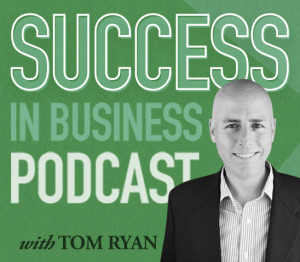 Welcome to Episode 218 of the Success in Business Podcast, your host Tom Ryan is joined by producer Jason Pyles. This episode is Part 1 of 3, where Tom shares his StartUp Secret Weapon: Approaching Risk Like An Investor.
There are four major risk categories that every entrepreneur needs to understand and to be able to reduce in order to be successful.
Having worked with hundreds of entrepreneurs both as an advisor and investor, Tom can confidently say that all but a few understood how to think about and manage risk when they started out.
He was in the same boat back in the early-90s when he launched his first company, but fortunately, got some great advice from a mentor that changed the way he manages risk to this day. That advice was to see risk as an investor does. Simple enough, right? The only problem was that the 23-year-old Tom had no idea how investors thought or made decisions. Fortunately his mentor was an experienced Angel Investor who explained it in terms he could understand.
He's had a lot of experience managing risk since then. Mostly successfully and sometimes not so much, but he's never forgotten that basic lesson and he's shared it now with hundreds of founders and small business owners.
At the core of every investment decision is an assessment of how likely a business can execute its plan for growth. From the first contact with an entrepreneur, whether a business plan, deck, or pitch, a good investor will begin asking themselves something like, "Do I believe they can do what they say they can do?" The process of answering this question is due diligence, which most entrepreneurs have heard of, but few fully appreciate its fundamental purpose.
Simply stated, the goal of due diligence is to determine if the deal makes sense. However, assessing the overall risk of the investment is what ultimately drives sound investment decisions. So how do investors evaluate a startup's risk?
They ask a series of questions, of you and themselves, to understand the facts and circumstances surrounding the business venture as best as possible. While every investor is somewhat unique in their approach, most will focus on the following four fundamental risk drivers, and so should you!
1) Team Risk
2) Product Risk
3) Market Risk
4) Execution Risk
Thanks for listening!
---
Check out Tammy and Stewart Cook at App-Garden.com
Tweet Tom at: @TomRyanAVL
Do you have a question about your business? Tom would love to help you:
Leave a voicemail: (801) 228-0663
E-mail your questions: SuccessInBusinessPodcast@gmail.com
Like this podcast on Facebook
Follow this podcast on Twitter: @TomRyanSIBP
Get every episode free: Subscribe in iTunes