Podcast: Play in new window | Download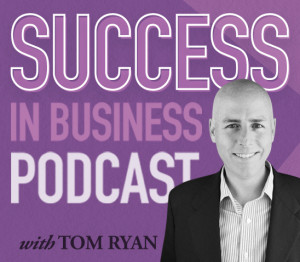 Welcome to Episode 219 of the Success in Business Podcast, your host Tom Ryan is joined by producer Jason Pyles. This episode is Part 2 of 3, where Tom shares his StartUp Secret Weapon: Approaching Risk Like An Investor.
There are four major risk categories that every entrepreneur needs to understand and to be able to reduce in order to be successful.
1) Team Risk
2) Product Risk
3) Market Risk
4) Execution Risk
Today Tom will be talking to us about Team Risk. The notion that people invest in people is never more appropriate than with startup investments. After all, all business is the product of the contributions of the people working on them. And, unlike later stage companies, startups have limited or no operating history for an investor to evaluate. So they have to bet heavily on the founders' ability to build a high performing team that can do what they say they can do.
Here is the advice we have from Tom: Ask these questions to determine if your startup has a high performing team (i.e. low team risk).
Who is your team?
Investors understand that an investment in a startup includes a relationship with the founders and often also the core team. It's a package deal, so investors will need to understand the makeup of the team before they invest. In addition to the basic stuff like identifying the team members, understanding roles and responsibilities, and getting to know each other, investors will attempt to determine the overall cohesiveness and stability of the team.
Previous experiences where founders especially have achieved success or faced adversity together are significant risk indicators for investors. Investors consider teams who have successfully launched a previous startup, especially if it was successful, lower risk than those with no previous experience. Questions like, "Tell me about an experience with your previous startup that you were about to kill each other and how you worked through it?" are designed to understand how likely the founders will stick together when times get tough.
How complete is your team?
If I were to tell you that I was planning on creating a medical device that would virtually eliminate the risk of contracting the Zika virus, you might get excited about the potential of such a device and may, if you were an investor, even consider investing. However, once you learned my background, you would wonder how I could accomplish such a feat with no previous experience with medical devices or virology. If you then discovered that my team consisted of just me for now, you'd be right to doubt my ability to pull it off.
As silly as this may sound, what I'm describing is called a "solopreneur" situation, and it equals unacceptable risk in the minds of most experienced investors. Investors realize that a high performing team needs to be a complete one, possessing the collective experience and expertise required to both recognize and realize the solutions to problem and strategies for capitalizing on opportunities.
A solopreneur, no matter their capabilities, cannot accomplish enough on their own to achieve the level of hyper growth required of a truly successful startup investment. So while you think you have the best concept and plan for launching the most disruptive tech ever created, you're and easy "pass" if you don't have solid tech experience and expertise on your team.
How passionate is the team?
Passion is the term most investors use to gauge how likely the team will go to any and all lengths to succeed. Experienced investors know how hard scaling a startup can be, so they want to be convinced that the team both knows what they're getting themselves into, and possesses the grit to muscle through the hard times without splintering.
While admittedly investors rely most on intuition and gut feel, you're wise to emphasize the following passion indicators when communicating with investors. You should also look for these qualities when building and evaluating your team.
1. The founders live and breath the business and their excitement is palpable. If any of the founders are not fired up about the business, why should anyone else be?
2. The founders fully commit to the venture. Too often, founders attempt to juggle multiple projects simultaneously and dilute their value to all. Investors will perceive high risk if the founders are not willing to make the venture their full-time focus. The same could apply for part-time or contracted team members.
3. The team shares the founders' passion. Investors understand that startups need to win lots hearts and minds to be successful. That only happens if the team can convince others (customers, media, investors, employees, etc.) of their greatness, which starts with the founders. If founders or managers can't infect their team with passion and excitement, they're likely unable to get anyone excited about the business.
Thanks for listening!
---
Check out Tammy and Stewart Cook at App-Garden.com
Tweet Tom at: @TomRyanAVL
Do you have a question about your business? Tom would love to help you:
Leave a voicemail: (801) 228-0663
E-mail your questions: SuccessInBusinessPodcast@gmail.com
Like this podcast on Facebook
Follow this podcast on Twitter: @TomRyanSIBP
Get every episode free: Subscribe in iTunes