Podcast: Play in new window | Download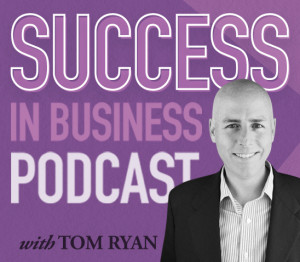 Now that you've created a rock-solid power pitch for your business, there's only one question left to answer: How do you rock this thing? As well prepared as you are, you still have to stick the landing when it comes to the pitch itself. It's time for a few pointers on connecting with your audience of potential investors.
In this final "finish line" episode of the Power Pitch series, host and business coach Tom Ryan explains the rookie mistakes many entrepreneurs make when pitching, and some simple tips to help you avoid them. As always, Tom is joined by producer and co-host Jason Pyles.
• Show opening, and recap of the "Power Pitch" series thus far
• Considerations for creating a dynamic pitch presentation:
Energy: Passion is hugely important, because people invest in people
Appearance: It's not so much about what you're wearing, but rather about looking prepared and presentable
Delivery:Formal is less effective than conversational and engaging (like TED Talks)
Anxiety: Acknowledge it, own it, and learn to compensate for it, because anxiety is real for everyone giving a presentation
Tom's terrible first pitch story
Preparation: Not only for the presentation, but also for the Q&A
• Final Challenge: Combine all the pieces from the previous episodes, then send them into Tom. He'll review them, then pick the best three outlines for one-on-one coaching.
• Sign off, and ways to contact the show
---
Links for Today's Episode:
Tweet Tom at: @TomRyanAVL
Do you have a question about your business? Tom would love to help you:
Leave a voicemail: (801) 228-0663
E-mail your questions: SuccessInBusinessPodcast@gmail.com
Like this podcast on Facebook
Follow this podcast on Twitter: @TomRyanSIBP
Get every episode free: Subscribe in iTunes