Podcast: Play in new window | Download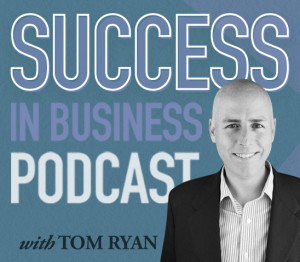 In the last episode of the Success In Business Podcast, host Tom Ryan and co-host Jason Pyles discussed their 2016 business resolutions. In part two, they talk about two more resolutions for the New Year, one to start doing and one to stop. Learn why a profit-focused mindset matters for every entrepreneur, and why being unbalanced can result in needless stress as you build your business.
In addition to his work as a podcaster, Tom Ryan is a business coach and Kauffman Foundation Entrepreneur In Residence based in Asheville, NC. Co-host Jason Pyles is a producer for several successful podcasts, including Movie Podcast Weekly.
• Show opening
• Recap of part one
• "Start Doing" resolution: Being Profitable
How are you going to make money?
Positive thinking versus preparation
• "Stop Doing" resolution: Being Unbalanced
Sacrificing everything in the name of your business is not very balanced or disciplined
"Highest and best use" story
• Sign off, and ways to contact the show
---
Tweet Tom at: @TomRyanAVL
Do you have a question about your business? Tom would love to help you:
Leave a voicemail: (801) 228-0663
E-mail your questions: SuccessInBusinessPodcast@gmail.com
Like this podcast on Facebook
Follow this podcast on Twitter: @TomRyanSIBP
Get every episode free: Subscribe in iTunes