Podcast: Play in new window | Download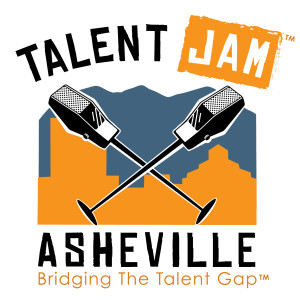 What happens when great businesses can't find the local talent they need to grow? What happens when talented people can't find great local employers or clients to work with? Nothing happens … and that's a problem. It's called the "talent gap," and it's an issue faced by small businesses and workers across the globe.
"It's when you have this misalignment between folks that are really talented in a market, and folks who need that type of talent in their businesses," host Tom Ryan says. And instead of just talking about it, Tom decided to do something about it.
What if there was a way to get all these people in the same room? Maybe add some great local food, and even a healthy supply of craft beer to help the socialization? Great things can happen.
On Monday, November 30, 2015 from 6 to 9:00 PM, the Kauffman Foundation WNC Entrepreneur-in-Residence Program will present Talent Jam, Asheville. Click here for details and to register.
• Introduction
• Understanding the "talent gap"
• Troubles with matching talent, even in a connected world
• Making local connections with the Talent Jam, Asheville
• "What would you get if you combined a job fair with speed dating, and then combined it with a networking event and a fast-pitch competition?"
• Talent Jam event format, with local beer and food
• Creating a context for pitching and networking
• The one-minute pitch dramatization
• Convincing Jason to relocate to Asheville?
• Sign off, and ways to contact the show
---
Links for Today's Episode:
Tweet Tom at: @TomRyanAVL
Do you have a question about your business? Tom would love to help you:
Leave a voicemail: (801) 228-0663
E-mail your questions: SuccessInBusinessPodcast@gmail.com
Like this podcast on Facebook
Follow this podcast on Twitter: @TomRyanSIBP
Get every episode free: Subscribe in iTunes