Podcast: Play in new window | Download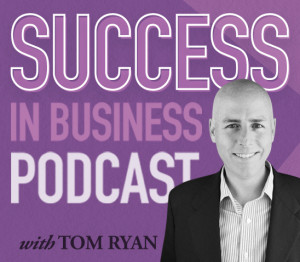 Welcome to Episode 220 of the Success in Business Podcast, your host Tom Ryan is joined by producer Jason Pyles. This episode is Part 3 of 3, where Tom shares his StartUp Secret Weapon: Approaching Risk Like An Investor.
Market risk is one of these iceberg or transformer topics where there's more than meets the eye. But generally speaking, assessing market risk comes down to an investor believing what you're creating will quickly solve an actual problem that's significant and worth tackling. A problem the market will agree is worth solving.
Surprisingly, most startup business and investor pitches do a poor job of describing problems worth solving. Too many communicate wants rather than needs, and some don't bother to address the problem at all. Others are problems worth solving, but are too small to excite a serious investor.
For example, the recent Pokemon Go phenomenon will certainly inspire fast follower startups to get into the augmented reality game. If true to form, most will focus on wants, like a game. The rare few, like Improbable who received $20 million from Andreessen Horowitz will capitalize on big needs like a platform and architecture that makes it easy to develop game worlds on a global scale.
Successful investors and entrepreneurs are in the business of solving big needs and leave the wants to others.
So how do you know if you have a problem worth solving? Start by asking, "What's not easy for your customers to do today (that you can fix)?"
What's not easy is, of course, is the problem statement, and being able to communicate it naturally and believably is essential skills for a startup. Without a believable problem, the solution is meaningless- it has no meaning, no purpose. We don't need solutions for problems that don't exist, right?
What's not easy for your customers to do today (that you can fix) is their unmet need, nagging anxiety, or obvious gap in the market that your business can solve. Transportation technology firm, Uber's believable problem was that it was too hard to get a taxi. They recognized that it was not easy for most people to get a cab and the experience kinda sucked.
At the same time, they realized that it was also difficult for most people to become drivers. It was very expensive, inflexible, and frankly wasn't very cool to be a cab driver. So like many business models, Uber solves two distinct problems for two different customers- riders and drivers.
A simple problem statement for Uber's riders could be: "Don't you wish you could use your smartphone to find and pay for a cab?"
By establishing the rider problem — people can't call or pay for a taxi using their phones — Uber's app instantly makes sense.
Almost everyone has a smartphone. In fact, many more people own smartphones than cars. So if getting a ride was easy, fast, safe and cheap — and from any smartphone no less — a lot of people would probably use it.
Investors believed Uber's big problem was real, was needed by a huge group of customers, and they had the team to solve the problem. The rest, as they say, is history.
Thanks for listening!
---
Check out Tammy and Stewart Cook at App-Garden.com
Tweet Tom at: @TomRyanAVL
Do you have a question about your business? Tom would love to help you:
Leave a voicemail: (801) 228-0663
E-mail your questions: SuccessInBusinessPodcast@gmail.com
Like this podcast on Facebook
Follow this podcast on Twitter: @TomRyanSIBP
Get every episode free: Subscribe in iTunes