Podcast: Play in new window | Download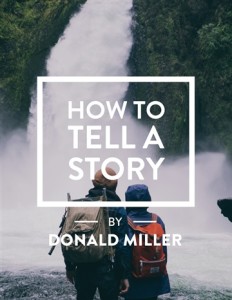 By the second sentence of How To Tell A Story, host and business coach Tom Ryan was hooked. Here was a short, straightforward book about telling a great story, written by an established expert in brand narrative. In a world where content marketing can make or break a business, it was exactly the kind of thing Tom could use to give his clients and students a starting point for creating their company narratives.
In today's episode, Tom and co-host/producer Jason Pyles talk about Donald Miller's How To Tell A Story. They also talk about what makes a great story, and why stories are so effective for reaching your audience and customers.
• Show opening, and Tom's upcoming guest spot on Jason's movie podcast
• Recap of how Tom discovered How To Tell A Story by Donald Miller
• Donald Miller's background and approach
• Why Tom was "all in" to the ebook by the introduction's second sentence
• Robert McKee's Story: Style, Structure, Substance, and the Principles of Screenwriting
• Defining your audience
• How stories help your brain engage
• Why Star Wars is a $4 billion story
• Story in memorable Super Bowl commercials
• Storytelling as a skill
• To be continued …
• Sign off, and ways to contact the show
---
Download your own copy of Donald Miller's How to Tell a Story eBook today!
Tweet Tom at: @TomRyanAVL
Do you have a question about your business? Tom would love to help you:
Leave a voicemail: (801) 228-0663
E-mail your questions: SuccessInBusinessPodcast@gmail.com
Like this podcast on Facebook
Follow this podcast on Twitter: @TomRyanSIBP
Get every episode free: Subscribe in iTunes