Podcast: Play in new window | Download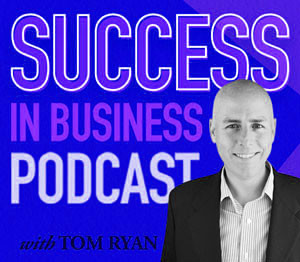 Brand perception is a huge factor in a startup's long-term success, and getting that brand narrative right isn't something you want to rush. As AE Marketing Group founder Brian Walker recalls, his company didn't even have a website for most of their first year of business, opting instead to build the fundamentals of their business over their online messaging.
But does that mean that your online branding isn't important? Hardly! In part four of this five-part interview, host Tom Ryan and co-host Jason Pyles talk with Brian about seeking out customer feedback, knowing when to "fire" a customer, the importance of your brand's online reputation, and much more.
• Seeking customer feedback
• "True voice of customer" feedback
• Two biggest metrics for Brian: Revenue and customer retention
• "Firing" your customers, and understanding good business fit
• "If you have a client that is either making your business unprofitable or driving your employees crazy, eventually they're going to do a lot more harm than good."
• Understanding digital marketing
• "A lot of people think about the internet as a marketing tool. I think of it as the consumer's research tool."
• Digital brand perception: "If you build it, they may not come."
• Putting your digital house in order
• The importance of tracking your digital reputation
• Sign off, and ways to contact the show
---
Links for Today's Episode:
Tweet Tom at: @TomRyanAVL
Do you have a question about your business? Tom would love to help you:
Leave a voicemail: (801) 228-0663
E-mail your questions: SuccessInBusinessPodcast@gmail.com
Like this podcast on Facebook
Follow this podcast on Twitter: @TomRyanSIBP
Get every episode free: Subscribe in iTunes